Transferring a Prepayment to a Different Customer
Go to the order that you want to apply the prepayment to.
Click Commands > Receive Prepayment
Click the dropdown and select User entered GL Account
Enter your suspense account in the GL account field
Enter the same post date you used in step 1
Enter a detailed note
Enter a memo
Enter a positive amount in the Prepayment Amount field
Leave the order number as is (should be the order number of the order you viewed beforehand)
Click OK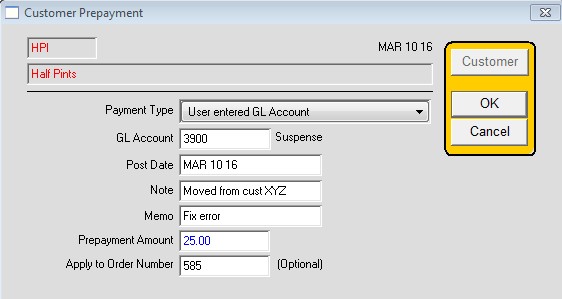 Done. The prepayment is now applied correctly.
Note: The above instructions are for prepayments made on orders. If the prepayment was applied to an invoice use the Adjust Receivables command instead. Adjust it against account 3900 (suspense account).
---
Revised 3/10/2016 – SV