Raw Materials Length Conversions
From the Parts for Manufacture/Raw Materials window go to Other Data > Purchasing and Other Data
Edit the Purchase UOM to the unit of measure you'll be purchasing and edit the multiplier conversion.
For example, if you need to convert yards to meters change the Purchase UOM to "Meters" and the multiplier to 0.9144. After that, each time you receive the goods in meters the stock will automatically be increased by the multiplier of 0.9144.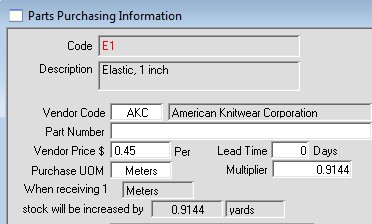 Note that the front of the Raw Materials window should still show the unit of measure that you carry the goods in (Yards as per the above example).