PF Opener
Benefits of the PERFECT FIT Opener:
The PF Opener File simplifies the upgrade process in several ways.
You do not need to make a shortcut to a new PF7 version.
Your older library file in the PFIT folder will automatically move to the Old Versions folder.
You can update all users by copying a new PF7 library and/or external files into a single folder on the server.
You have an option to update only one user instead of everyone..
When we issue a new version of the PERFECT_FIT.lbs opener file, it will have the same name, so you will not need to make a new shortcut. (Unless you have the older opener version named PERFECT FITa or PERFECT FITb)
---
To set up the PF Opener File:
1) Download the zipped version from this page.
2) Unzip the file and place the PERFECT_FIT file in your Pfit folder located at Computer > C Drive > Pfit.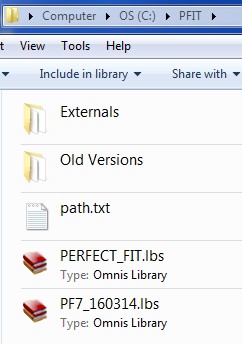 3) Right click on the PERFECT_FIT file and select Send To > Desktop (create shortcut).



If you have an older version of the opener (ending in "a" or "b"), it should be deleted, as well as its shortcut.
The PERFECT_FIT opener field should NEVER be put in the Externals folder.
The PERFECT FIT Opener File is now set up for a single user.
Use the PERFECT_FIT shortcut on the desktop to log into Perfect Fit.
---
To Upgrade a Single User (PFIT Folder):
To perform an upgrade copy the unzipped upgrade PF7 file into the Pfit folder.
Log into Perfect Fit with the PERFECT_FIT desktop shortcut. Your previous version will automatically be moved to the Old Versions
folder and the upgrade will begin.
This file can be used with Terminal Server/Remote Desktop, the same way.
In this case, make your " smart shortcut" to the PERFECT_FIT library.
The new version can be placed in the PFIT folder while the user is in PF. In that case, when the user exits PF and sign in again it will do the upgrade.
---
To Upgrade All Users (Updates Folder):
Open the PFShared folder on the server.
If you don't already have an Updates Folder, create a new folder, within PFShared, and name it Updates.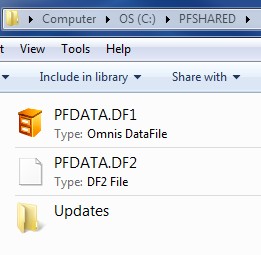 To upgrade all users, simply place the new PF7 version, unzipped, into the Updates folder. The next time a user logs in with their PERFECT_FIT shortcut on their own computer the new file will automatically be moved to their PFIT folder and will move the previous library into the old versions folder.
---
External Libraries work a similar way:
If you place an externals file in the Updates folder, it will be installed in the users External folder automatically as well.
To update a single user with an external library just copy it to their PFIT folder. Do no put it in the Externals folder. It will be moved automatically.
---
This update process relies on the file names, so do not change the name of any of the files.
---
Revised 3/31/2016 – AG