PARTS ALLOCATION ON CUT TICKETS
After inserting a Cut Ticket you will be prompted to enter Parts Allocation. If you answer yes, the "Parts Required for Cut Ticket —" window will open.
The "Parts Required for Cut Ticket —" window can be opened at any other time by clicking the Parts Allocation button on the Cut Ticket.



Components and required quantities for this cut ticket will be listed.
When this window is opened for the first time, The parts Tracking file is inserted, 1 record for each Raw Material required. These records are used for reporting on WIP, and later for Actual usage.
Allocate All Parts button:
This will allocate all parts using the Quantity required amounts.
Allocate Single Part button:
Click once on the part to highlight it.
Click on Allocate Single Part button.
The allocation will be automatically calculated from the Inventory items' Components (Part Usage) window, but can be changed.
Click OK.
If the quantity allocation is greater than the Quantity Available (On Hand – Allocated), a warning message will appear: Allocation is greater than the Amount Available. Continue?
If you click yes, the Quantity Available will appear as a negative number on the Parts Required window for this Cut Ticket and on the Parts/Components window for this raw material.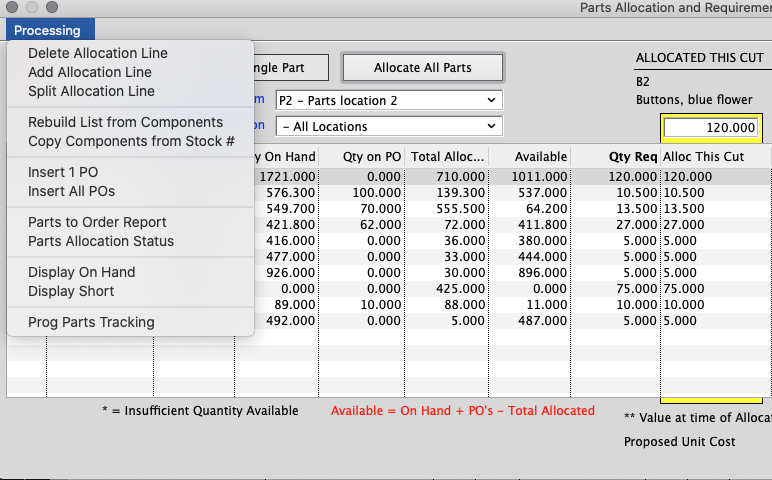 Delete Allocation Line
Add Allocation Line
These options allow you to add and remove Raw Materials on the Parts Required window. This allows for part substitution. See the Guide Article #19, "SIZES FOR RAW MATERIALS IN COMPONENTS"
Parts to Order Report
Reports on raw material quantity needed. Quantity Required – Available (Available = On Hand – Allocated) Parts on all other Cut Tickets must be allocated in order to show on this report.
Parts Allocation Status
Reports Raw Material Quantity Required and Quantity Under- or Over-allocated
Locations

Location to Allocate From
Determines where the parts are being allocated from.
On Hand & Allocated Location
Displays the selected Location's Qtys in the Allocations List.  The headers Qty On Hand, Total Allocated, and Available will reflect the selected Location's Qtys.
---
Revised 9/30/2020 – SH