KIT MODULE
The purpose of this module is to enable you to sell selected Inventory items as a "Kit", ie. a shirt, with a pair of shorts. It tracks kit orders and sales, and allows automatic "building" of kits.
Enter the Kit as an additional inventory item.
Go to Menus > Inventory > Inventory Style Master
Insert a new Stock Number to be used as the main reference for the Kit.
Enter the Style, Color, Size Category (if there is one), and Description.
Click OK
Go to Other Data > Notes
Click Edit and check the box marked "Kit, made of other items" then click OK.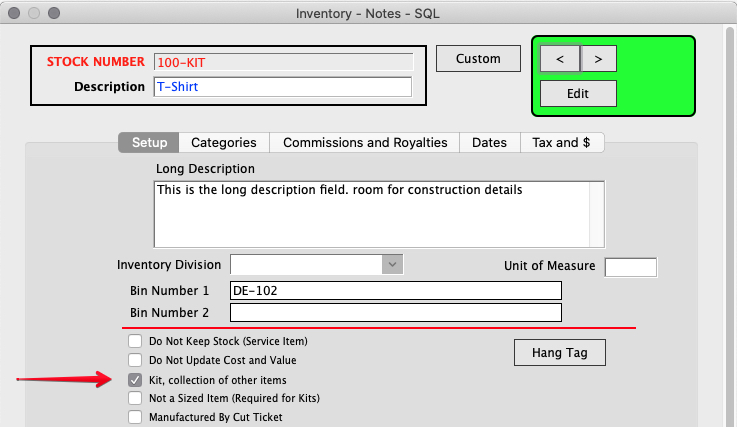 Go to Inventory Style Master and click the Kit button.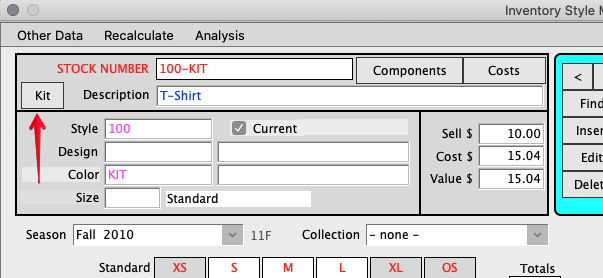 Enter each item of the Kit one at a time (Add, OK, …)
The Kit Contents must NOT be the same stock number as the Kit itself.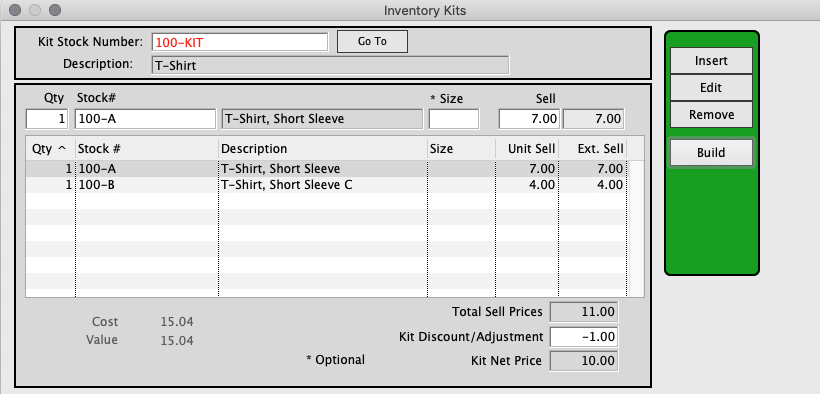 If there is a discount for buying the items as a Kit, you must enter the discount $ amount as a negative number.
When you close this window, the total price will carry forward to the Sell Price field in the Inventory Style Master Window.
The shortcuts to building inventory items will not automatically build the kits.
On the Inventory Style Master you can click on the word Kit and it will take you directly to the Inventory Kits Window.
Sizing
If Kit contents are all non-sized items then the kit must be marked as a Not a Sized Item – One Size Only – as well.
Inventory Styelmaster > Other Data > Notes.

If Kit contents are a mix of sized and non-sized items the kit does not need to be marked as a non-sized item, but the non-sized item within the kit must have its size listed in the kit definition.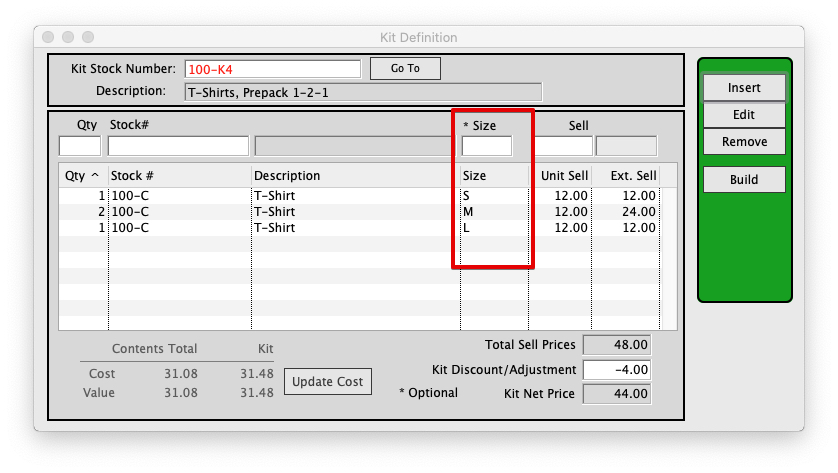 ---
Revised 10/02/2020 SH