INVOICES BY DIVISION
PERFECT FIT allows for multiple divisions. In order to make use of this function you must decide whether you want your divisions divided by customer or inventory.
Division by customer: This means you are defining who your customers are. An example would be if you sell to American Clients and Internationally you might need different divisions for pricing and marketing purposes.
Division by inventory: This means you are dividing up your inventory items. You may have multiple labels made under your same company name.
To print invoices with different company names go to Menus > Maintenance > User List > Divisions
This will take you to the Division Details Window. Fill out required information and enter the invoice header you would like to use (place it in the Form Header Name field).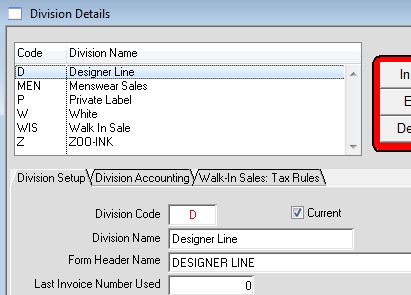 Note: This option might not work if you have a custom invoice or have a peculiar combination of invoice preferences selected. If this is the case please inform AG Systems with an appropriate lead time so we may make the appropriate modifications.
---
Revised 7/29/2016 – SV