Defining Adjustment Reasons
When you make an adjustment to inventory quantities you will need to enter an adjustment reason. Perfect Fit has default adjustment reasons already set up for use. However, if you would like to edit, delete, or insert a new adjustment reason go to Menus > Inventory > Inventory > Definitions > Adjustment Reasons.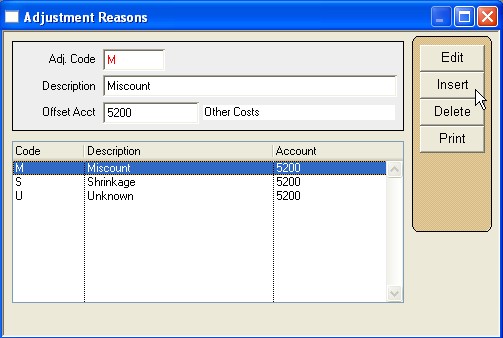 Use the buttons on the right to edit, insert, or delete an adjustment reason. The print button will print all the adjustment reasons along with their codes and account numbers.
Each adjustment reason needs a code, a description, and an offset ledger account. By default the account used is 5200. If you would like to change the account but are not sure which account to use please contact your accountant.
After any inserts or edits you will see the new adjustment reason in the list of selections during the inventory adjustment process.